It's been a long day at the Industrial Manufacturing Summit for Pradhan Rakshaks Rahul Kumar and Deepak Shetty. They were seated next to each other at the Summit and bonded over their fields of production & automation. They have got to know about various upcoming technologies in the production & automation field and they have understood the impact of each technology.
It is now 7:15 pm, and Rahul and Deepak are conversing over the evening tea at the Summit.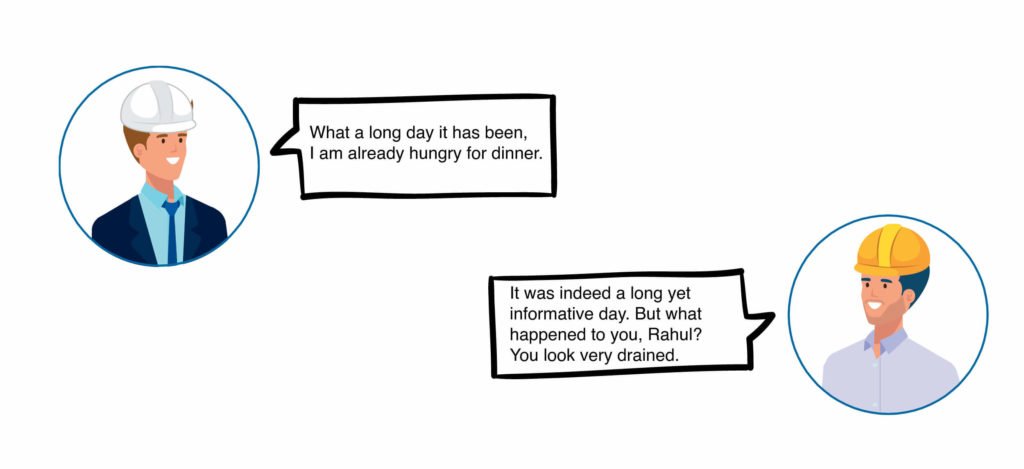 Rahul: What a long day it has been, I am already hungry for dinner.

Deepak: It was indeed a long yet informative day. But what happened to you, Rahul? You look very drained.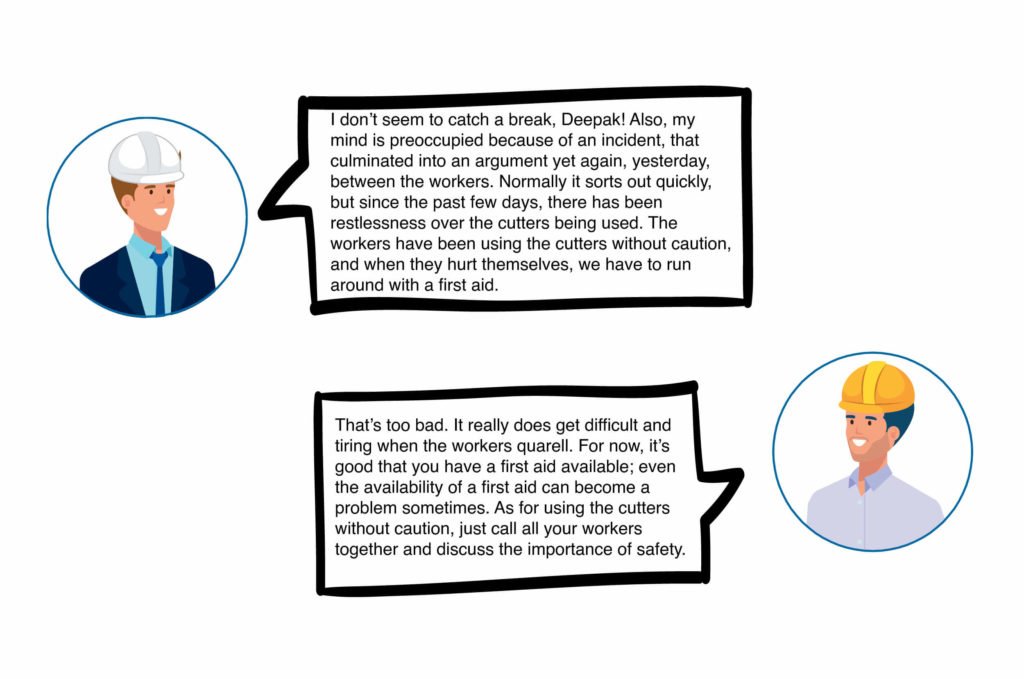 Rahul: I don't seem to catch a break, Deepak! Also, my mind is preoccupied because of an incident, that culminated into an argument yet again, yesterday, between the workers. Normally it sorts out quickly, but since the past few days, there has been restlessness over the cutters being used. The workers have been using the cutters without caution, and when they hurt themselves, we have to run around with a first aid.

Deepak: That's too bad. It really does get difficult and tiring when the workers quarrel. For now, it's good that you have a first aid available; even the availability of a first aid can become a problem sometimes. As for using the cutters without caution, just call all your workers together and discuss the importance of safety.
Rahul: It is not that easy. I have tried to explain it to them. Honestly, it is not their fault. The cutters we have right now are not efficient. If we want to get work done in time, we have to use them swiftly and quickly.

Deepak: Oh yes, risky cutters are a problem in themselves. Until a few months ago, I too had the same problem with my workers. The tools were not efficient, and it took hours to get work done. All this at the cost of getting cuts and deep wounds owing to increase in speed. And if they start focusing on their safety, their current cutters leads to lower productivity.
Rahul: You said you 'had' the problem? Is it not a problem anymore?

Deepak: Well, I noticed that bad tools were becoming a cyclic problem. The workers had to work slowly to be safe, which cost us time. Eventually they would speed up, then get hurt, and finally, we would be back to an injured worker working slowly or an injured co-worker for no fault of theirs.
Rahul: That is exactly what I am facing right now, how did you solve this problem?

Deepak: So my line managers and I decided to find a long-term preventive solution for this problem. We had first aid available on-sight, but we knew this was not enough. Adding to our problems, the closest clinic or hospital is at least 20 kms away. We decided that we wanted to get rid of the injuries in the first place and so we considered safer tools.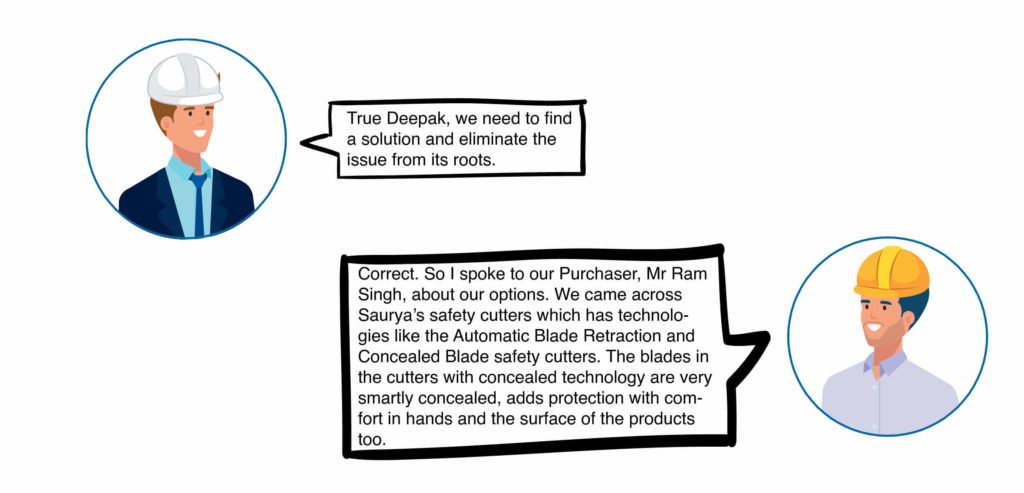 Rahul: True Deepak, we need to find a solution and eliminate the issue from its roots.

Deepak: Correct. So I spoke to our Purchaser, Mr Ram Singh, about our options. We came across Saurya's safety cutters which has technologies like the Automatic Blade Retraction and Concealed Blade safety cutters. The blades in the cutters with concealed technology are very smartly concealed, adds protection with comfort in hands and the surface of the products too.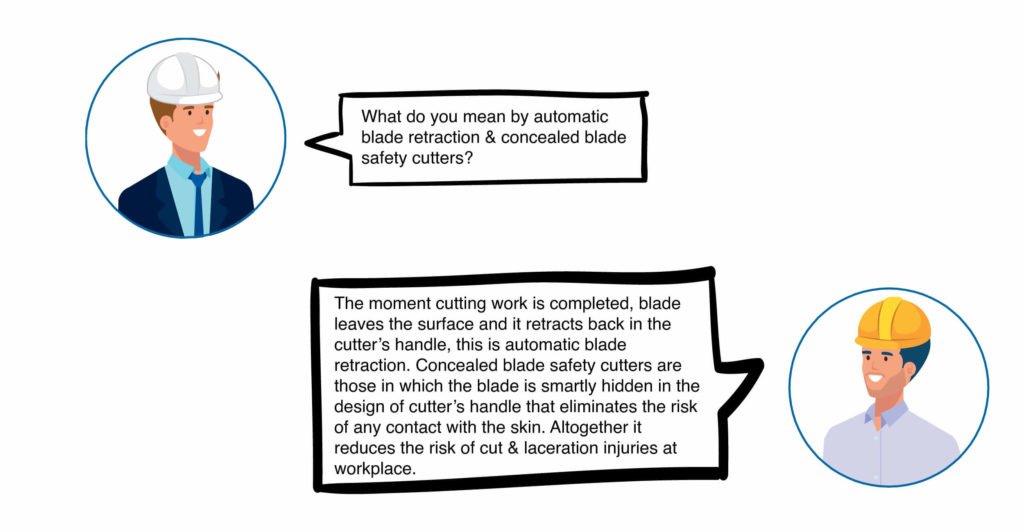 Rahul: What do you mean by automatic blade retraction & concealed blade safety cutters?

Deepak: The moment cutting work is completed, blade leaves the surface and it retracts back in the cutter's handle, this is automatic blade retraction. Concealed blade safety cutters are those in which the blade is smartly hidden in the design of cutter's handle that eliminates the risk of any contact with the skin. Altogether it reduces the risk of cut & laceration injuries at workplace.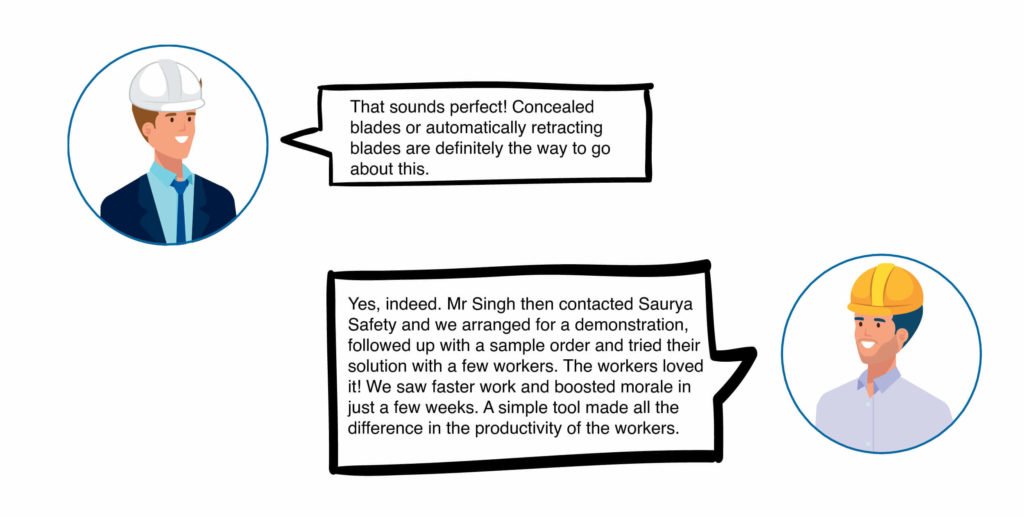 Rahul: That sounds perfect! Concealed blades or automatically retracting blades are definitely the way to go about this.

Deepak: Yes, indeed. Mr Singh then contacted Saurya Safety and we arranged for a demonstration, followed up with a sample order and tried their solution with a few workers. The workers loved it! We saw faster work and boosted morale in just a few weeks. A simple tool made all the difference in the productivity of the workers.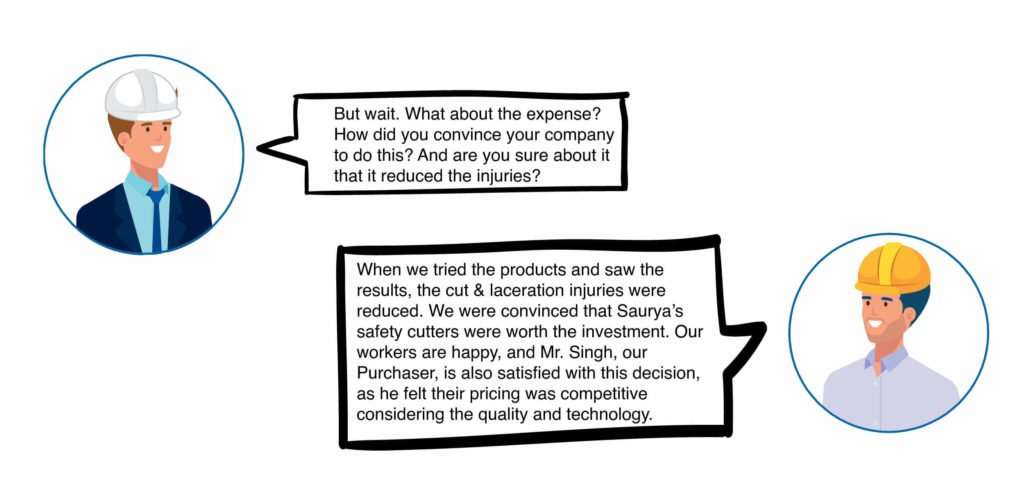 Rahul: But wait. What about the expense? How did you convince your company to do this? And are you sure about it that it reduced the injuries?

Deepak: When we tried the products and saw the results, the cut & laceration injuries were reduced. We were convinced that Saurya's safety cutters were worth the investment. Our workers are happy, and Mr. Singh, our Purchaser, is also satisfied with this decision, as he felt their pricing was competitive considering the quality and technology.
Rahul: This is great. Happy to know that not only are your workers happy with Saurya's Martor safety cutters, but so is your purchaser. It's definitely a win-win situation for you. I will look at these Martor safety cutters by Saurya and speak to my Purchaser about the best solution for us. Thanks for telling me about this. I can't wait to sleep in peace after this summit.

Deepak: Haha! Do speak to your team. Note down my contact details and get in touch with me in case of any support or, you can directly connect with the Saurya Team at info@sauryahse.com / +912240655555
Now, let's go home and enjoy some dinner!