Fire accidents are at an all-time peak, are we ready for it?
All the accidents above have one thing in common, casualties because of no escape routes. In case of disasters, have you thought of an ALTERNATE ESCAPE ROUTE?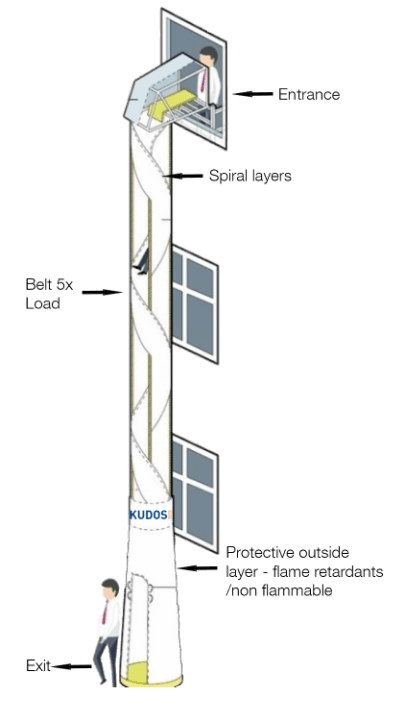 The escape chute is an escape solution installed in many buildings, factories & industrial plants worldwide for its efficiency in bringing occupants safety to the ground in emergencies.
Be it a new construction, an existing site or a historical building, the flexible escape chute proves to be ideal for fire related accidents, earthquakes and even serves as a secret alternative during terrorist attacks or any other threats the seek evacuation. In case of such situations, it takes just a minute to operate it and can evacuate over 15 people per minute. Simultaneous use by multiple people is ensured without blockade or collision.
There are two types of Escape Chutes:
External Chute: It is installed inside a building in front of a window, balcony or terrace.
Internal Chute: It is installed within a designated shall of the building.
Benefits to builders: The escape chute systems are custom made to suit any site, elevation and occupant population. This makes it ideal for your building or construction, no matter whether it is residential or commercial in nature. What's more? No alteration or construction is required for its installation - so your building design is not impacted.
Benefits to occupants: The Escape Chutes are crafted in such a manner that it is safe for everyone independent of age, size or weight. It is also safe for infants, toddlers, pregnant women, handicapped or even unconscious persons. Even people with limited physical abilities can also use it for safe evacuation to evacuate from a height of over 100 meters. It offers a guarantee of 15 years with annual maintenance, along with an option to extend the guarantee for life.
The Internal Escape Chutes are installed in a staggered manner with clearance of the fire door from the chute.
For More Information about the Escape Chute, or if you have an Interest in Buying a Chute?
Please contact us on escapechute@sauryahse.com or you can direct call us on +91 22 4065 5555